Origin of Our Name
Where did the name "Rasa" come from?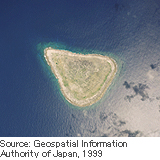 Rasa Corporation is named for an island in Japan's Okinawa prefecture that is commonly known as Rasa Island. Today, this island's official name is Okidaito-jima.
Rasa Island Phosphate (now Rasa Industries, Ltd.) started out by mining phosphate ore on Rasa Island. Rasa Corporation was established in 1939 to perform sales activities for Rasa Industries. Initially a subsidiary of Rasa Industries, Rasa Corporation is currently an independent trading company that handles a broad range of products.
Rasa Island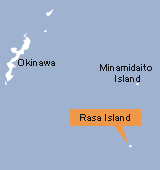 Rasa Island is a small island with a circumference of about 5 kilometers that is surrounded by coral reefs. Its location is 24° north latitude and 131° east longitude. The island is the village of Kitadaito in Shimajiri-gun of Okinawa prefecture. At the peak of phosphate ore mining operations, the island's population was about 2,000 but there are currently no residents.