Return to Shareholder / Dividends
Basic Policy for Distribution of Earnings
The long-term distribution of earnings to shareholders is one of the highest priorities of Rasa. The basic policy is to pay a stable dividend while increasing retained earnings in order to strengthen operations and fund upcoming business activities. Based on this policy, Rasa will strive to maintain a dividend payout ratio of approximately 30%.
Retained earnings will be used for expenditures from a medium to long-term perspective. These expenditures will include recruiting and training activities, entering new markets, developing new products, and other activities. By conducting business operations aggressively while building a stronger foundation for growth.
Splits
There is no stock split.
Dividends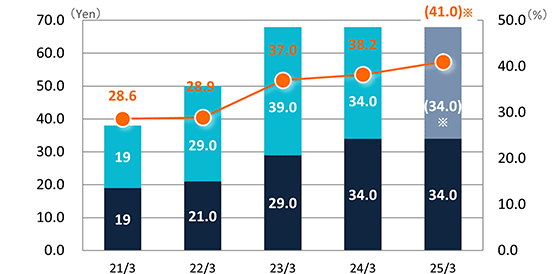 (Yen)
2017/3
*
2017/3
*
2018/3
*
2019/3
*
2020/3
*
Interim dividend
7.5
7.5
15.0
16.5
19.0
Year-end dividend
7.5
16.5
18.0
17.5
19.0
Dividends per share
15.0
24.0
33.0
34.0
38.0
Payout ratio [%]
18.2
20.1
24.7
25.3
26.0
* (Consolidated)