Management Message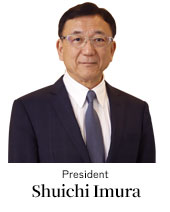 Firstly, I would like to thank all our shareholders for their constant support.
The fiscal year that ended in March 2019 was the final year of our three-year business plan called "Next Stage Rasa 2018 – A Strong Foundation for Our 80th Anniversary." Sales in the plan's final year were far below our goal. But our earnings exceeded the final-year goals at all levels in the plan's second year and increased again in the past fiscal year.
Rasa started using the company with an Audit and Supervisory Committee management structure in the fiscal year that ended in March 2018. In the past fiscal year, we established a Nomination and Remuneration Committee in order to create an even more effective corporate governance framework.
To provide strategies and goals for the next stage of the Rasa Group's growth, we established a business plan called "Value Up Rasa 2021 – Create More Corporate Value" that covers the three-year period ending in March 2022.
Making the group's foundation for business operations even stronger is a primary goal. We want to achieve sustained growth as a company that backs up the social infrastructure while creating added value.
Beginning in the fiscal year ending in March 2020, we have revised our basic policy for shareholder distributions. The new standard for dividends is a payout ratio of about 30% rather than the 25% standard we used in prior years.
Our progress during the past business plan gives the Rasa Group a sound base for taking the actions needed to accomplish the goals of our new plan.
I am grateful for the support of our shareholders and request your continued understanding as we start our new business plan.
June 2019